William Smith
From Jack the Ripper Wiki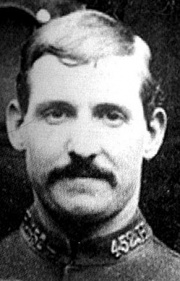 Police Constable William Smith, 452H.
Witness at Elizabeth Stride's inquest.
Born 1862. Joined Metropolitan Police in 1883 (warrant no.67565). Posted to H-division (Whitechapel), 1886.[1]
PC Smith's beat took him from the corner of Gower's Walk and Commercial Road to Christian Street, down Christian Street and Fairclough Street as far as Grove Street, along Fairclough Street to Backchurch Lane and then up Backchurch Lane to Commercial Road. It took in other streets along the way, including Batty Street and Berner Street. It took approximately 25 to 30 mins to walk.[2]

At 12.30am, 30th September 1888, PC Smith saw a man and a woman (who he later felt certain was Elizabeth Stride) standing on the pavement a few yards up Berner Street, on the opposite side to Dutfield's Yard. He described the man as being about 28 years of age, 5ft 7in tall, wearing a dark overcoat and trousers. He also wore a hard felt deerstalker hat and was described as 'respectable' looking. The man was also holding a newspaper parcel, about 18in in length and 6 or 8in wide. He also noticed that the woman had a flower in her jacket.
Smith heard no conversation, the couple appeared sober and were not acting in a suspicious manner. He passed along Berner Street towards Commercial Road. He was also able to state that he believed that it had rained very little after 11pm, 29th September 1888.
On returning to Berner Street at 1.00am, he saw a crowd at the entrance to Dutfield's Yard, but had heard no cries of 'Police' beforehand. When he got there he saw Constables 12H.R and 252H; he saw the deceased and went to fetch the ambulance. Dr Frederick Blackwell's assistant Edward Johnston was just arriving as he left.[3]
Biography
William Smith was born on 14 September 1862 at Milton [under Wychwood] in Oxfordshire[4], the son of Richard and Eliza Smith[5]. He joined the Metropolitan Police on 19 March 1883, initially serving in P Division. He transferred to C Division on 30 July 1883, to A Division on 29 March 1886 and to H Division on 25 June 1886[4].
At the date of the 1891 census he was a boarder in the household of George Henry Browning at 27 Smith Street, Mile End Old Town[6]. In 1892 he was married at Stepney to George Browning's daughter, Alice Maud, who had worked previously as a school teacher[7]. William and Alice Maud had four children[8]:
Alice Maud, b. 1893
William George Henry, b. 1894
Jessie Mary Eliza, b. 1901
Albert Edward, b. 1910
At the date of the 1901 census, the family was living at 18 Denmark Street, St George's in the East[9]. By 1910 they had moved to 78 Dunloe Avenue, Philip Lane, Tottenham[4].
PC William Smith resigned from the force after 27 years' service on on 25 April 1910[4]. At the date of the 1911 census he was living at 6 South Witham, [11] Mount Pleasant Road, Tottenham, and working as a wharf gatekeeper. He died at the same address as a result of an aortic aneurism on 4 May 1914[10], and was buried on 8 May at Tottenham Cemetery.
His widow Alice Maud survived him by more than 40 years, dying on 4 February 1957 at 86 Faversham Avenue, Bush Hill Park, Edmonton[11]. She was cremated at Enfield on 8 February, and her ashes were taken to Tottenham, presumably to be scattered on William's grave.
(N.B. William Smith's entry in The Complete Jack the Ripper A to Z, pp. 479, 480 (2010) states that after retiring he emigrated with his family to Canada and died in 1951. In fact this was a different PC William Smith, who resigned from J Division in March 1909, and whose granddaughter seems to have mistakenly believed that he was the Berner Street witness[12].)
References
External Links
Smith's Beat, Gavin Bromley Dissertation at Casebook