Morris Eagle
From Jack the Ripper Wiki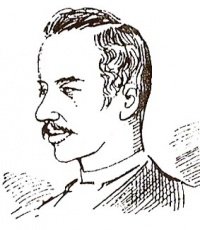 Witness at Elizabeth Stride's inquest.
Also referred to as 'Morris Siegal'.[1]
Born c.1864 in Russia, was a traveller in jewellery living at 4 New Road, Commercial Road.
A member of the International Working Men's Educational Club, he had been there for much of the day, 29th September 1888. In the evening, he occupied the chair and opened the discussion on the necessity for Jews to be socialists. At about 11.45pm, he left the club to take his young lady home, leaving by the front door. He returned at 12.35am and as the front door was shut, he went through the open gates of Dutfield's Yard in order to enter the club via the back door. It was very dark, too dark to see if anybody was lying there and he did not remember seeing anybody in Berner Street.
On reentering the club he went to see a friend in an upstairs room and later joined him in singing a Russian-language song. He had been there about twenty minutes when a club member named Gilleman came upstairs and said that there was a dead woman in the yard. Eagle rushed down and arriving at the body, struck a match, upon which he saw that it was lying in a pool of blood. He said the time was now 1.00am.[2]
Horrified (Eagle claimed that he could not look at the body because of the blood)[3], he quickly ran to find a police officer, heading north up Berner Street onto Commercial Road, shouting for help at the top of his voice. At the corner with Grove Street he met PC's Henry Lamb and Edward Collins who accompanied him back to Dutfield's Yard. PC Lamb then sent Eagle to fetch an inspector from Leman Street Police Station.[4]
Morris Eagle married Kate (b.1871) in December 1888 in London (City)[5] and they subsequently were recorded as having two children, Sarah (b.1889) and Rose (b.1890). In 1891 the family were living at 1 New Buildings, Tenter Street East, Whitechapel, Morris being employed as a 'commercial traveller'[6]. After 1891 the Eagle family seem to disappear from the records, therefore it is not known if there were more children.
References