Britannia
From Jack the Ripper Wiki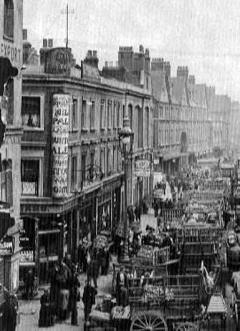 Demolished.
Beer house situated at 87 Commercial Street, Spitalfields, at its northern corner with Dorset Street.
Despite the claims of other pubs (such as the Ten Bells), the Britannia was actually able to lay claim to several connections with the victims of the Whitechapel Murders.
It was known locally as 'the Ringer's' after the landlord Walter Ringer, although it is commonly noted that his wife Matilda spent more time behind the bar than her husband. One reason for this may be borne out by research which claims that Walter died in 1881 (although he is listed on the 1881 census). The Ringers let the upstairs as furnished rooms and eventually took over property next door which became known collectively as 'Ringer's Buildings' - these were known for their dubious tenants including a pair of spinsters who appeared to have been running a brothel for under-age girls there.[1]

According to Eliza Cooper it was the scene of her altercation with Annie Chapman which had started over a bar of soap[2], although other versions claim that the fight took place in the kitchen of Crossingham's Lodging House.
Unconfirmed reports place Mary Jane Kelly in The Britannia at 11 p.m. on the 8th November in a drunken state. A witness called Elizabeth Foster claimed to be drinking in here with her that evening[3]. Foster did not appear at the inquest.
Maurice Lewis claimed to have seen Kelly here at about 10 a.m. on 9th November[4], by which time she is supposed to have been dead. Caroline Maxwell also claimed to have seen Kelly standing outside the pub earlier that morning and spoke to her[5]. In both cases, their accounts throw up grave misgivings as to accuracy of time and/or date.
The Britannia was demolished in 1928 along with the north side of Dorset Street to make way for extensions to Spitalfields Market.
References