Brushfield Street
From Jack the Ripper Wiki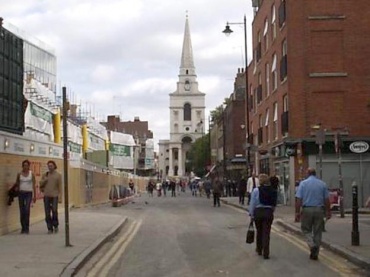 Spitalfields E1.
Thoroughfare running east-west from Commercial Street to Bishopsgate.
Depicted in 1676 as an unnamed road on the south side of the 'Spittlefield' running between Crispin Street and Red Lion Street[1]. By the beginning of the 18th century it had acquired the name Little Paternoster and later Paternoster Row[2].
It was extended west to Bishopsgate in the latter half of the 18th century, the new extension cutting through Crispin Street, Gun Street, Steward Street and Duke Street (later Fort Street). This new section was called Union Street[3].
The north side of the street was (and to some extent still is) dominated by the buildings of Spitalfields Market. It was renamed Brushfield Street on 25th February 1870 in honour of Thomas Brushfield, a Justice of the Peace, trustee of the London Dispensary in Fournier Street and a prominent Vestryman. Thomas Tempany, owner of Mr. Tenpenny's Lodging House in Gun Street, was recorded as residing at 6 Paternoster Row before the name-change[4].

Just after 1.35am, 8th September 1888, John Evans, the nightwatchman at Crossingham's Lodging House, 35 Dorset Street, watched as Annie Chapman walked from the lodging house up Little Paternoster Row in the direction of Brushfield Street.
The Prince Albert pub stood at 21 Brushfield Street. This was where Mrs. Fiddymont and Mary Chappell saw a suspicious and alarming looking man at 7am, 8th September 1888[5]. He bought a drink and left after downing it in one gulp. Chappell followed him into Brushfield Street where she pointed him out to Joseph Taylor[6].

Much of Brushfield Street (except the 19th century buildings of Spitalfields Market) was altered in the 1920s - the London Fruit exchange was built on the south side in 1928 and further market buildings were constructed on the north side around the same time. These latter buildings were demolished in the 1990s and were replaced 2001-5 by the large office and retail development known as Bishop's Square.
Several 18th century buildings still survive on the south side of the street and most are now restaurants or cafes. The rear frontages of the Bishopsgate Institute (1895) are visible at the western end.
References