The London Nobody Knows
From Jack the Ripper Wiki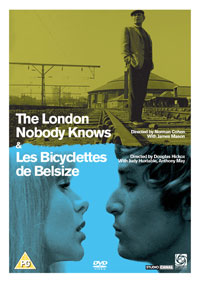 Documentary travelogue filmed in colour in 1967, based on the book by Geoffrey Fletcher[1] and adapted for the screen by Brian Comport. Directed by Norman Cohen.
The London Nobody Knows features the actor James Mason on an often surreal pilgrimage to some of the lesser known places in the capital, interesting due to their peculiarity or because they seemed under threat when the film was made. The film features such places as the Roundhouse and the derlict Bedford Theatre in Camden, Chapel Market in Islington, parts of Bankside and even a public toilet in Holborn where a former attendant used to keep his goldfish in the cisterns. It also includes interviews with homeless men and street performers.
Alongside images of the swinging sixties, there are also a number of scenes of the seamier side of London life, of which the East End appears to be the main focus. Included in the film are the Salvation Army Hostel in Whitechapel Road, Thrawl Street, Flower and Dean Street, Lolesworth Street, Old Montague Street and Fournier Street.
Of most interest to Ripperologists, however, is a short sequence featuring 29 Hanbury Street. Mason is admitted to the house by an elderly woman (possibly Kathleen Manning who lived there until 1969[2]) and proceeds to mention the murder of Annie Chapman from the back yard. It is an incredibly atmospheric set-piece, bolstered by subsequent scenes of meths drinkers in Fournier Street and vagrants asleep in the gardens of Christ Church Spitalfields (Itchy Park). In fact, Spitalfields comes across as a particularly downbeat area, populated by melancholic old folk and scruffy children.

The London Nobody Knows is available on DVD as a double bill with Douglas Hickox's Les Bicyclettes de Belsize.
References
↑ Geoffrey Fletcher, The London Nobody Knows (Arco Publishing 1962)
↑

Tower Hamlets Electoral Registers, 1965-70
External Links
The scene with James Mason at 29 Hanbury Street can be viewed here.