John Neil
From Jack the Ripper Wiki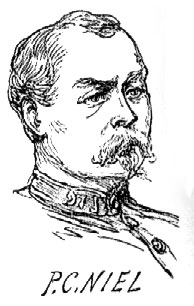 Police Constable John Neil, 97J
Witness at Mary Ann Nichols' inquest.
Born 1850, County Cork, Ireland. Joined Metropolitan Police in 1875, warrant no.59168. Served in J-division (Bethnal Green) throughout his career[1]. Married to Mary (b.1850) with two daughters, Henrietta (b.1880) and Julia (b.1881)[2]
PC Neil discovered the body of Mary Ann Nichols whilst on beat duty at approximately 3.45am, 31st August 1888. He had walked from Thomas Street into Buck's Row and was heading eastwards towards Brady Street. Hearing PC John Thain walking along Brady Street, he summoned him with his lamp and later, he was joined by PC Jonas Mizen who had been alerted to the discovery of Nichols' body by the carmen Charles Cross and Robert Paul. It is likely that Neil missed Cross and Paul by minutes and testified that he saw nobody about. The furthest he had been from the murder spot all night was Baker's Row.
With the aid of his lamp, he noticed the wound to Nichols' throat and that blood was still oozing out. He felt her arm, which he claimed was still warm and noted that her eyes were wide open. Her bonnet was lying nearby. He immediately despatched PC Thain to fetch Dr. Rees Ralph Llewellyn and told PC Mizen to fetch the ambulance.
Whilst waiting for Dr. Llewellyn, he was joined by Henry Tomkins, James Mumford and Charles Bretton who worked at Harrison, Barber & Co, horse slaughterers in nearby Winthrop Street and who he had seen at 3.15am, ie thirty minutes before finding Nichols' body. Neil also rung the bell of Essex Wharf to enquire if a disturbance had been heard, to which the answer was 'no', as well as examining the area around the body, on which he found no traces of wheel-marks. PC Neil remained with the body (in accordance with procedure) until it was removed to the mortuary.[3]
In 1889, John Neil was a reserve police officer, JR 11.[4]

He retired from service in 1897 after receiving an injury whilst on duty.
References